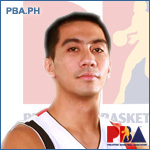 Tenorio was born to parents who hail from the Philippine province of Nasugbu, Batangas in the southern part of the main island of Luzon. Growing up in the country, Tenorio was already a sensational street league player with his amazing combination of speed, agility, and guile. His biggest asset however were his outsize hands that were disproportionately bigger for his size of about 170 centimetres and 60 kilograms.
Tenorio eventually found his way to the capital metropolis of Manila, He Finished his grade-school years at Don Bosco Technical Institute, Makati then matriculating to San Beda College to attend secondary school and learn the nuances of organized basketball. His high school coach was the legendary Ato Badolato, an old school type coach whose decades-old program in the San Beda high school has produced a galaxy of stars in Philippine basketball. Tenorio would become one of the most celebrated of his alums.
In college Tenorio would attend the Ateneo de Manila University, the Jesuit-run institution known for its tough academic regime as well as its burgeoning college basketball program. Tenorio made an immediate impact as a rookie for the Blue Eagles of Ateneo de Manila as he helped lead his team into the 2001 basketball Finals of the University Athletic Association of the Philippines (UAAP). Tenorio was practically unstoppable in Game 3 of the Best-of-3 Finals Series as he scored 30 points against their college rival De La Salle University-Manila. DLSU-Manila however would go on to win that series.
The following year, in 2002, Tenorio would once again lead the Ateneo de Manila back to the UAAP Finals. This time he and his team would not be denied as they exacted vengeance on DLSU-Manila to win the UAAP Men's Seniors basketball championship.
Tenorio would make a third straight Finals appearance in 2003 but he and his Blue Eagle team would yield their crown to the veteran Far Eastern University Tamaraws.
Tenorio played a total of five seasons with Ateneo de Manila and also graduated with a Bachelor of Arts degree in 2006, something he considers a far more important achievement than any of the basketball accolades he ever got. He played under four college coaches: Joe Lipa, Joel Banal, Sandy Arespacochaga and Norman Black.
After completing his collegiate eligibility he then saw action in the quasi-commercial basketball league of the Philippines, the PBL (Philippine Basketball League) the last stepping stone towards achieving a professional basketball career. In his last PBL Conference he led his Harbour Centre Portmasters team to the 2006 PBL Unity Cup championship, a fitting end to his career as an amateur player.